When Makenzi was born she didnt really have much hair. She did have a good bit in the back and little tiny bit on the top. So ive been really excited for her to finally grow some hair. I was hoping by her 1st birhtday she would have a good bit, but no luck. Now here we are just about 2 months till her 2nd birthday and she is finally getting some good hair!
When she was born
ignore my face, i had a bad reaction to the morphine with my skin.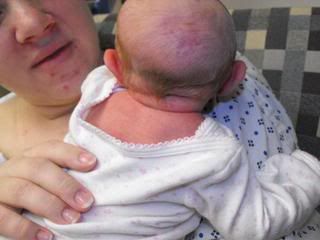 6 months old
1 year
The day after her 1st birthday, getting some hair!
18 months
FINALLY some thick hair!
now at almost 22 months
I was playing with it the other day and put it in a little hair tie, its so cute!
Made her look alot older!
Here is the back right now
We are getting there! I didnt have hair for the longest time either.